«I take some pride in…representing myself exactly how I would like to have my son remember me to his son»
«It's hard for me to watch Kiss Kiss Bang Bang (2005) and not get nostalgic about it. It's not perfect but in some ways, I think it's the best thing I've ever done. I don't know why»
«I take some pride in… representing myself exactly how I would like to have my son remember me to his son»
«Then after I got a record deal -- and strangely the guy who was heading it up at Sony, Peter Gelb, was not a sleazebag -- I couldn't stop it once I said, "Where's my advance money?"»
Biography
Downey was born April 4, 1965 in Manhattan, New York, the son of writer, director and filmographer Robert Downey Sr. and actress Elsie Downey (née Elsie Ann Ford). Robert's father is of half Lithuanian Jewish, one quarter Hungarian Jewish, and one quarter Irish, descent, while Robert's mother was of English, Scottish, German, and Swiss-German ancestry. Robert and his sister, Allyson Downey, were immersed in film and the performing arts from a very young age, leading Downey Jr. to study at the Stagedoor Manor Performing Arts Training Center in upstate New York, before moving to California with his father following his parents' 1978 divorce. In 1982, he dropped out of Santa Monica High School to pursue acting full time. Downey Sr., himself a drug addict, exposed his son to drugs at a very early age, and Downey Jr. would go on to struggle with abuse for decades.
Downey Jr. made his debut as an actor at the age of five in the film Pound (1970), written and directed by his father, Robert Downey Sr.. He built his film repertoire throughout the 1980s and 1990s with roles in Tuff Turf (1985), Weird Science (1985), True Believer (1989), and Wonder Boys (2000) among many others. In 1992, Downey received an Academy Award nomination and won the BAFTA (British Academy Award) for Best Actor for his performance in the title role of Chaplin (1992).
Despite his active drug and alcohol addiction, Downey Jr. made a name for himself as a young actor in the mid- to late '80s. After a season in the cast of "Saturday Night Live," he scored film roles in the likes of John Hughes fare such as Weird Science, and he co-starred opposite Molly Ringwald in The Pick-Up Artist in 1987. That same year, Downey also gave a memorable performance in the film adaptation of the Bret Easton Ellis novel Less Than Zero, playing a rich kid whose life went off the rails amid a severe heroin addiction. Downey's off-screen life would soon uncannily resemble that role.
Downey's performance in the 1992 biopic Chaplin earned him an Academy Award nomination, and his career seemed to be on an upward trajectory until 1996, when he was arrested for possession of heroin and cocaine. As reported in a 2003 interview with the New York Times, Downey was arrested multiple times for drug offences and cycled in and out of jail.
One of the more disturbing incidents involved an intoxicated Downey wandering into a neighbor's house and passing out in a bed. After repeatedly missing court ordered drug tests, Downey was sentenced to a three-year prison stint in 1999, but only ended up serving a year in California Substance Abuse Treatment Facility and State Prison.
In 2001, while on parole, Downey was found barefoot, wandering around Culver City, California and was arrested on suspicion of being under the influence. That incident led to him being fired from his role on the TV show "Ally McBeal," in addition to other film and stage jobs. Instead of being sent back to prison, the now-broke actor was ordered to rehab.
Downey's wife Susan Downey (née Levin) told Harper's Bazaar that he quit drugs for good in 2003 after she gave him an ultimatum. Apparently, it stuck. According to a 2013 Daily Mail article, the actor credits a combination of 12-step programs, yoga, meditation and therapy with keeping him sober.
His career didn't pick up again until Mel Gibson personally underwrote Downey's liability insurance…
He also credits sobriety for the phenomenal career momentum he has enjoyed over the past few years. In the early aughts, it was practically impossible for Downey to get hired since most filmmakers wouldn't—or couldn't—pay the exorbitant insurance bonds it required to have him on set. His career didn't pick up again until Mel Gibson personally underwrote Downey's liability insurance so that the actor could star in 2003's The Singing Detective.
From there, Downey started working steadily, appearing in films such as Gothika, A Scanner Darkly, Zodiac and Kiss, Kiss, Bang, Bang.
Downey's star-power rose in 2008 when he starred in the summer blockbusters Iron Man and Tropic Thunder, earning his second Oscar nomination for the latter. Downey then starred in The Avengers and subsequent Iron Man movies, making him a critical player for Marvel.
The fact that Robert Downey Jr.'s career seems to improve the longer he stays sober makes his comeback one of the most impressive and inspiring stories.
Personal life
Relationships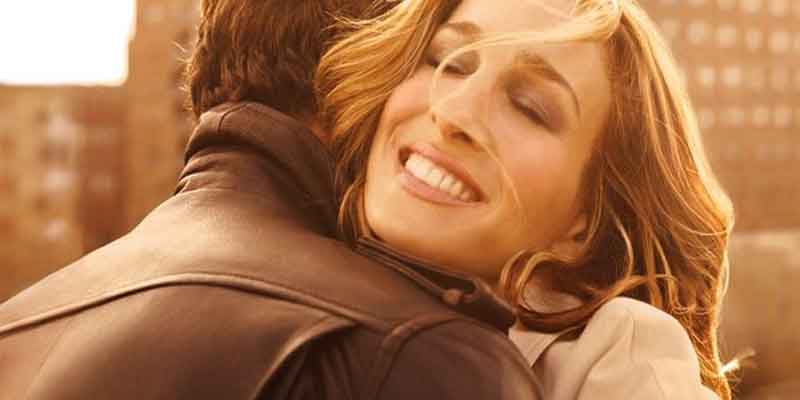 Downey started dating actress Sarah Jessica Parker after meeting her on the set of Firstborn. The couple later separated due to his drug addiction.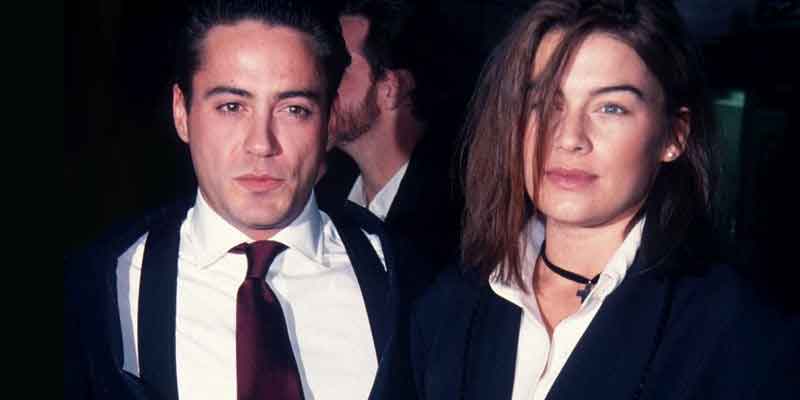 He married actress/singer Deborah Falconer on May 29, 1992, after a 42-day courtship, their son, Indio Falconer Downey, was born in September 1993.
The strain on their marriage from Downey's repeated trips to rehab and jail finally reached a breaking point.
In 2001, in the midst of Downey's last arrest and sentencing to an extended stay in rehab, Falconer left Downey and took their son with her. Downey and Falconer finalized their divorce on April 26, 2004.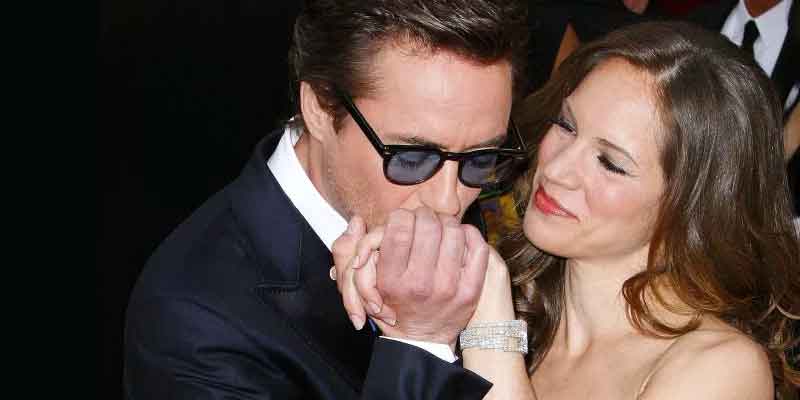 In 2003, Downey met producer Susan Levin, an Executive Vice President of Production at Joel Silver's film company, Silver Pictures on the set of Gothika.
Downey and Susan quietly struck up a romance during production, though Susan turned down his romantic advances twice. Despite Susan's worries that the romance would not last after the completion of shooting because "he's an actor; I have a real job", the couple's relationship continued after production wrapped on Gothika.
Downey proposed to Susan on the night before her thirtieth birthday. The couple were married in August 2005, in a Jewish ceremony at Amagansett, New York.
A tattoo on one of his biceps reads "Suzie Q" in tribute to her. Their first child, a son, was born in February 2012, their second child, a daughter, was born in November 2014.
Music
The Futurist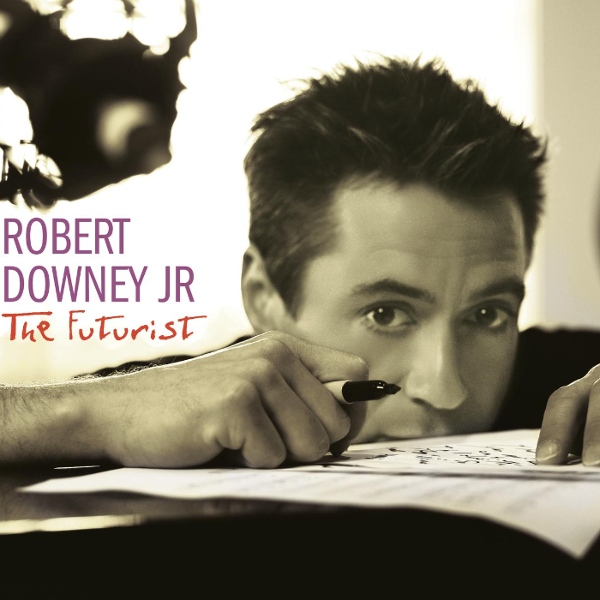 The Futurist is the debut studio album by American actor Robert Downey Jr., produced by Jonathan Elias and Mark Hudson, and released on November 23, 2004 through Sony Classical. The album debuted at number 121 on the Billboard 200 chart, selling 16,000 copies in its first week.

The album received mixed reviews, but Downey stated in 2006 that he probably will not do another album, as he felt that the energy he put into doing the album was not compensated. He explained that he did not want to spend whatever time he had at home in the studio, but rather with his family. "Broken" plays during the end credits to Downey's 2005 film Kiss Kiss Bang Bang.
Every breath you take
Robert Downey & Jr. Sting
Man like me
Robert Downey Jr.
There are a few creases around his eyes and he's thinner than you might expect, despite the whale of a lunch - gazpacho, chicken breast, protein wrap, egg-white omelet, sweet potatoes and a giant Lindt chocolate bar - he is devouring between several cigarettes and gulps of herb tea. "Chinese herbs," he says, typically self-mocking as he fires up another cigarette, "which I'm taking as I pound down the Camel unfiltereds." Otherwise, Robert Downey Jr. appears no worse for wear.

And there's been a lot of wear, even by his liberal standards. For much of the last eight years, he has had a reputation as one of the most gifted but troubled actors of his generation, publicly battling substance abuse while serving jail and prison time for drug and weapons charges.

Now, four years after his parole, two subsequent arrests and a year in a court-ordered drug treatment facility, Mr. Downey, 39, has become a singer, songwriter and pianist. This week, Sony Classical releases his first album, "The Futurist," consisting of eight of his own pop ballads as well as two cover songs, "Smile," a Charlie Chaplin composition, and "Your Move" by Yes.

At a Santa Monica recording studio, Mr. Downey talked about making the transition from actor for hire to singer-songwriter. Surrounded by photographs of his son, Indio, 11 (from his 12-year marriage to Deborah Falconer), and fiancée, the "Gothika" producer Susan Levin, he discussed his music, his film career - releases next year include "Kiss, Kiss, Bang, Bang," an action comedy with Val Kilmer, and "A Scanner Darkly," a futuristic drama from Richard Linklater - and his life now.

HILARY DE VRIES: You've cut a few singles before, but now with this album you seem to be joining actors like Hilary Duff, Lindsay Lohan and William Shatner, who think they have crossover appeal as recording artists. Why put out an album?

ROBERT DOWNEY JR.: Yeah, there is this thing about people wanting to continually demonstrate their prowess in many areas and it's kind of a gross-out. Clearly, I have some hesitation in being an actor who puts out an album. But after years of writing songs, it gradually became more real. Then after I got a record deal -- and strangely the guy who was heading it up at Sony, Peter Gelb, was not a sleazebag -- I couldn't stop it once I said, "Where's my advance money?"

HILARY DE VRIES: How did you learn piano? Did your parents make you take lessons as a kid?

ROBERT DOWNEY JR.: No, they sent me into a living room that had a piano in it, and I thought I should occupy myself more wisely than sitting on the circa-1970 couch and staring out the window.

Continue reading from The New York Times